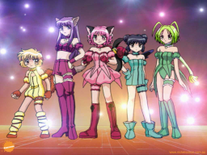 Welcome to Tokyo Mew Mew Fanfiction!!!!
Tokyo Mew Mew is awesome!! But we all know that we wish some things were different, or we just want to hear a future. So, ta da! Now you can write your own stories of tokyo mew mew!
Please remember that this is a fanfiction site, and not only a site about the show
Today, October 13 2009 is officially Kisshu Day on this site!! Anyone happy? I am! Go Kisshu!! =D
News in Mew Mew Power: Season 2
Edit
it aired under the name Mew Mew Power. Characters and episodes were renamed, scenes were cut and story lines were modified.
The New season of Mew Mew Power aired on the United States.
The New Sequel in the third season of Mew Mew Power
Edit
I made the trird season is: Mew Mew Power: Mode
Replace this with the name of your topic
Edit
Write an introduction to your topic here, to explain to your readers what your topic is all about!
Latest activity
Edit
Ad blocker interference detected!
Wikia is a free-to-use site that makes money from advertising. We have a modified experience for viewers using ad blockers

Wikia is not accessible if you've made further modifications. Remove the custom ad blocker rule(s) and the page will load as expected.